About Heather Noёl
I created the following bio for the readers of my upcoming book – THE GAME: Nothing is as it seems. But I thought it was a lot more fun and much more interesting than any of the other bios I've had in the past… so here it is!
One of my first psychic experiences was waking up in the middle of the night hearing a man's voice in my mind saying, "You're going to have a baby. She's blonde and blue eyed, and her name is to be Amelia. When you're pregnant with her you're to swim dolphins." I thought I was going crazy. I didn't know anyone named Amelia, I had never considered Amelia as a potential baby name, and I certainly had no intentions of having a baby – though swimming with dolphins sounded like fun!
As the years went by I continued having profound dreams featuring this little girl, and she would talk to me in my mind as well – she must have known it was going to require several years for me to be mentally prepared to have a baby at 40! Then, one day I sat down to write the first version of THE GAME: Nothing is as it seems (which was originally called Children of Light). I thought that maybe I could give birth by naming the main character in my book Amelia – and then maybe the dreams and the conversations would stop!
If you've seen the book trailer you may have noticed the idea that 'how you feel determines your experience.' I wrote that not as a fictional concept, but because I had been experimenting and putting this idea into practice for years. So this next part will show you what it looks like in practice – how the concepts in the fictional story played out in my own life.
When I finished the original book, I was so determined to get it published, I moved out of my home and was prepared to be homeless, if that's what it took. I then proceeded to jump off one cliff after another, but gradually a series of miraculous events began to unfold and I ended up with endorsements from several best-selling authors, including Deepak Chopra, M.D. and Jack Canfield. But despite the endorsements I couldn't find an agent or a publisher. And to be honest, my writing wasn't technically all that great either, but my manuscript was one of the first visionary fiction novels written, and despite my lack of professional prowess people kept falling in love with the story, to the extent that I received financial offers to help me self-publish the book. I printed the book in 1995 and since I knew nothing about sales and distribution, my plan was to go on the road and sell books out of the trunk of my car.
However, my sales-by-the-seat-of-my-pants plan met with a major hiccup when I realized I was pregnant with the little girl I'd been dreaming about for six years – I could hardly wait to meet her!  So instead of trying to sell books I followed my cosmic-directions and set out to swim with dolphins – only to discover that it is illegal for a pregnant woman to swim with captive dolphins in the United States!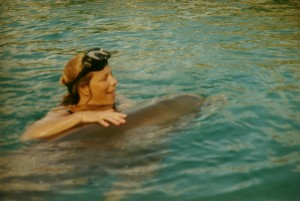 I had no money, but that has never stopped me before, so I sold my car, flew to the Yucatan and camped on the beach.  I was four months pregnant and did psychic readings for tourists – often in exchange for a meal! With my last thirty dollars I went to an ecological theme park, met with the director of the dolphin area, showed him my newly published book and told him I wanted to write about dolphins in regard to their attraction to pregnant women and the affect of dolphin sonar on the fetus.
As it happened there was a dolphin, Itzel, who always wanted to swim with pregnant women, and in a matter of minutes the director handed me a daily pass to the park and gave me permission to swim with Itzel by myself every day for a month – this has never been allowed before or since.  A few months later my blonde, blue eyed daughter was born underwater and of course, I named her Amelia! So now you know why I have a daughter named Amelia and a character in my book named Amelia!
The original book, Children of Light, had opened the door for me to swim with dolphins while I was pregnant. But after Amelia was born, I was a single mom and I didn't know what to do with all of the boxes of books sitting in my garage. I felt stuck, and I knew that wasn't a good thing!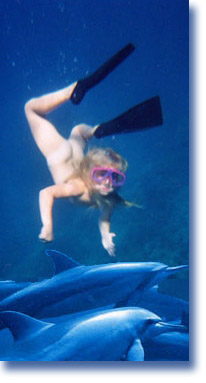 Finally the perfect solution occurred to me – just give the books away – all of them!  The receivers simply paid for shipping by the box and 8,000 books were shipped out in one week! The perfection of that choice became clear a few months later when Amelia was five. She started climbing in bed with me every morning begging to go to the ocean and swim with dolphins. I knew she wouldn't understand landlocked Utah, and then I started having technicolor dreams of swimming in the ocean in a pod of dolphins as if I was one of them.
So I explained to my new husband that between Amelia's desire for the ocean, and my dreams, we were simply going to have to move to Hawaii. He agreed and though I thought we would have more money when we arrived, we ending up stepping off the plane on Maui with a grand total of $400 and a rental car for a week. We had no jobs, no friends and no place to stay. (Thankfully I'd had a lot of practice at staying calm and trusting!)
The next day we arrived early in the morning at La Peruse Bay, but we were told that the dolphins hadn't been there in over two months. Amelia didn't really seem to care and just stood on a cliff looking out over the water. In fifteen minutes a pod of about fifty Hawaiian Spinner dolphins showed up leaping and spinning right in front of us.
Amelia and I swam together while singing into our snorkels. The dolphins swam right over to us and then slowly swam in circles about 30 ft. below us (which is how they rest). At the same time twelve or thirteen mothers with babies swam in large, lazy circles around us as if they were showing their babies to me and my own baby. It was magical. When we got to shore I asked Amelia how she liked swimming with the dolphins. She said, "It was nice, but they're not my pod." (She was six years old and had no idea that I swam with bottlenose dolphins when I was pregnant with her, or that there were different species!)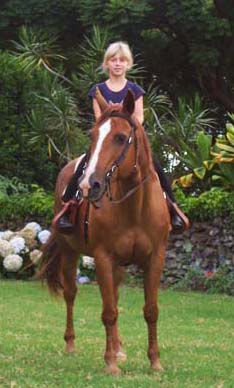 We ended up living at 4,000 ft. above sea level, and a long way from La Peruse Bay. But happily, Amelia decided that if she couldn't swim with her own pod (given that they live in Mexico) then she wanted a horse instead – we call them land-dolphins! Now, before I go any farther, I especially want to share this with any teens who might be reading this bio and the book as well. Everything I write in the story about your feelings running the program is all true! I had been teaching myself and experimenting with these ideas for years, and Amelia grew up with no sense of limitation whatsoever.
So when she decided she wanted a horse, I didn't tell her we couldn't possibly afford one, I told her she could absolutely have a horse, but it was up to her, not me, to make it happen. She was seven years old, but it only took her a few minutes to understand the process (I'm sure she inherently knew it far better than I did!) I told her that her desire to have a horse was the first part (that was easy, and she had started riding at three, and had no trouble feeling what it would feel like to have a horse).
Next, I told her to let go and allow her wish to come to her with no time limit. (I had never instilled in her the idea that anything was impossible, so she naturally expected things to come to her!) And finally, I told her it was her responsibility to focus her attention on being grateful and appreciative (as these feelings are 'attractive'). She followed the directions, and willingly moved back into gratitude and appreciation whenever I made her aware that she was beginning to focus on things she didn't want. A couple of months later my husband came home with a sign from a local bulletin board that was offering a free horse. I had grown up riding and caring for horses, and after Leila was given to us I found pastures that were free or very reasonable.
We ended up living on Maui for four years and when Amelia was 10, she visited Arizona with a friend of ours and while there called me determined to move to Sedona. (A month earlier I started having visions of Sedona, so I knew Amelia's impeccable intuition and enthusiasm was a sign that we were meant to go!) We all felt good about moving and ended up renting a small place. My husband is an artist, but was mainly working as a server in a restaurant at that time. We had a 20-something year old car and though I occasionally did intuitive sessions on the phone, I was mainly home 'unschooling' Amelia (unschooling is where the student chooses what they love and that's was they study and pursue – there's no focused curriculum or testing).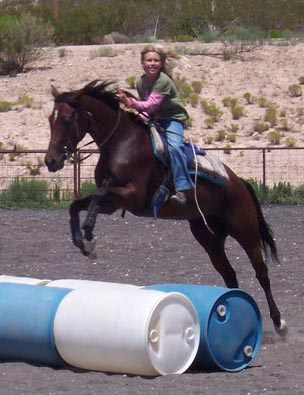 [Note to parents: Yes, it's a little nerve-wracking stepping outside the system, but the results are phenomenal! Amelia grew up with complete freedom. She was never told, 'you have to because…' or 'it's just not possible…'  Instead she grew up feeling empowered, not because I handed things over to her, but because she understood how to do it herself! The trick was making sure she didn't 'outgrow' her innate abilities!]
In Sedona, Amelia wanted to ride horses and learn about natural horsemanship, and this time she wanted not one, but two horses so she and I could both ride together every day! Once again, I didn't tell her we didn't have the funding, I simply reminded her of her own inherent super-powers of focus and feeling. Both horses showed up within three months! We even discovered a place to keep them located on the border of a national forest.
Not only did the funding keep showing up for care and boarding, but we had more offers for free horses than we could handle! So we would often take in a horse in need, or one that needed training and then find it the perfect home.
When Amelia was twelve, she told me that since we were living in Arizona and were now much closer to Mexico, she really, really wanted to swim with her pod. (This had been on her things-to-do list since she was 6!) In particular, she wanted to swim with Itzel, and I discovered she was still alive. So I told Amelia that she already knew how to 'feel' into existence the experience she wanted – and that's exactly what she did!
Without any effort or plans, everything suddenly fell into place for us to go back to the Yucatan (my husband stayed in Sedona and held down the fort!) Amelia was given permission to swim with Itzel (not only free of charge, but by herself – which never happens in a theme park!) We had also decided to have a school year abroad in a third world country as part of Amelia's unschooling. (I can't recommend this enough at 12 or 13 years of age!) We camped and traveled through Mexico and then we ended up in Guatemala. Even though we were on our own, taking buses and camping, we were always safe and we consistently met the kindest, most helpful people. When we arrived in Guatemala horses appeared and Amelia took riding lessons four times a week. After seven amazing months we returned to Sedona.
As my daughter grew older I kept thinking about writing an updated version of the original story. When I finally sat down to write this current version, Amelia happened to be seventeen years old – so quite a bit of the Amelia character is based on my daughter. Amelia is also the model in the book trailer and on the cover of THE GAME: Nothing is as it seems.
For those of you wondering – yes, it takes practice to create these experiences. But when you read THE GAME: Nothing is as it seems, you'll begin to understand that you are feeling things into existence all the time! You do it naturally. And most importantly, you are powerful beyond belief!
If you want to learn more about living powerfully try out the program here at The Giving Game Foundation!
Below are pictures of our journeys and the many horses that Amelia kept attracting over the years!